Get your runners out – its FITNESS FEBRUARY! Following last years success it is back. Add this page to your favourites so every time you exercise you can log your points and help push your department for the win!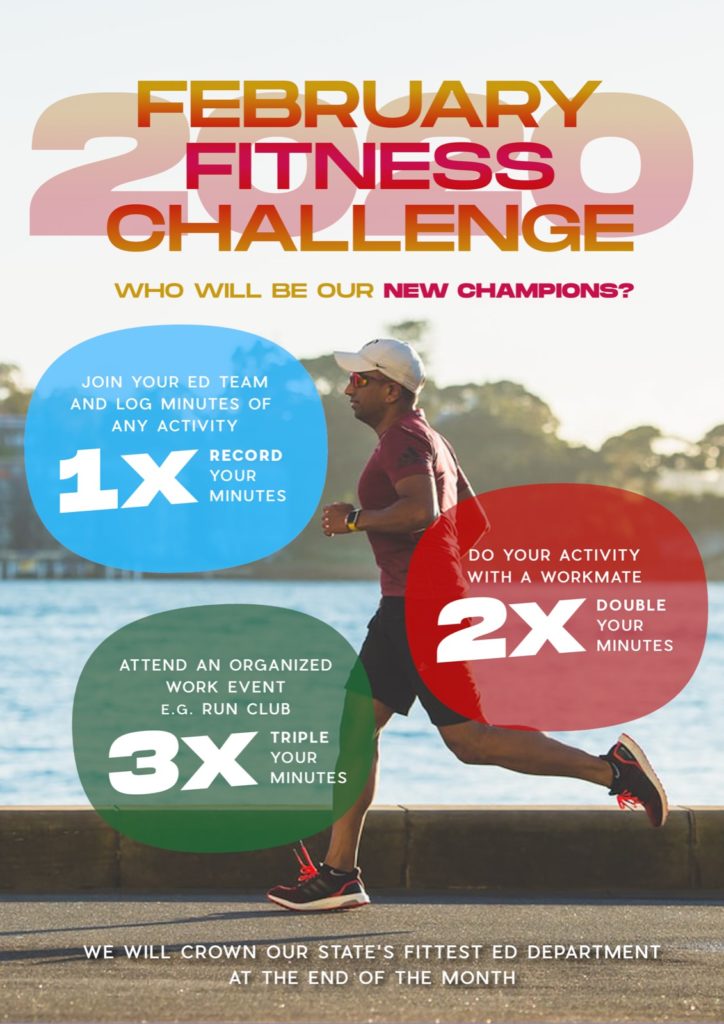 HOW IT WORKS
Join your ED team in the push to win this years Fitness February title!
Record your daily total minutes exercise on the google sheets linked on this page
Work out with another team member or as group to multiply your points!
HOW TO LOG YOUR MINUTES
Save this page to your favourites
Find your department in the list below
Click the link to open your departments google sheet and log your minutes against your name for that date. (The first time you open the sheet you will need to add your name to the next available row)
Once you have updated the sheet it will show on the master copy on this website under your hospital name
Get out there and start earning points!
Live totals
See how your department is doing in the live totals table below:
https://docs.google.com/spreadsheets/d/1B6ZR3hl8Zj1p-Nw4uONl5S_4VDnHw__DXAcDkNFZ9ik/edit?usp=sharing
ALBANY
ARMADALE HOSPITAL
FIONA STANLEY HOSPITAL
GERALDTON REGIONAL HOSPITAL
JOONDALUP HEALTH CAMPUS
PERTH CHILDRENS HOSPITAL
ROCKINGHAM GENERAL HOSPITAL
ROYAL PERTH HOSPITAL
SIR CHARLES GAIRDENER HOSPITAL
SJOG MIDLAND